Activities
Sugihara House Director Simonas visits Japan
Simonas Dovidavičius, director of the Sugihara House in Kaunas, Lithuania, recently paid us a visit. He had toured various Chiune-related sites in Tsuruga, Gifu and Nagoya, as well as paying his respects at Chiune's gravesite in Kamakura, which he had long wished to see.
We accompanied Simonas to the cemetery. Other families happened to be at the gravesite as well, making this something of a memorial day.
Simonas later came to our museum in Tokyo, where he spent a considerable amount of time looking at the exhibits. He took particular interest in the personal photos taken in Lithuania. We were grateful for his keen observations and insights. We thank him again for stopping by and look forward to meeting him again.
Many thanks as well to Hisayuki Sakamizu, head of the Japan-Lithuania Friendship Association, and Lithuanian exchange student Arvydas Kumpis.
Visit by Kanto Zuiryo Society and Zuiryo HS Principal Shimada
The museum recently welcomed former pupils of Aichi Prefectural Zuiryo High School, Chiune's alma mater, and current Zuiryo High School Principal Machiyo Shimada. The members of the group viewed the exhibits and video with great interest.
We thank Principal Shimada and the entire group for taking the time to come from Nagoya to visit our museum.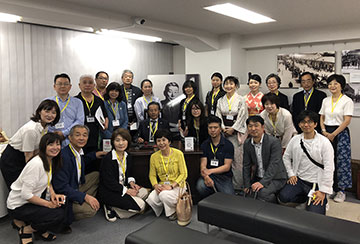 Holocaust Memorial Day (29 January 2019)
United Nations in Thailand
Speech by Chihiro Sugihara
Chihiro Sugihara, chairman of NPO Chiune Sugihara Visas for Life gave a speech before the United Nations in Thailand on 29 January in commemoration of UN International Holocaust Remembrance Day.

Speeches were also presented by the Israeli Ambassador Meir Shlomo, German Ambassador Georg Schmidt and Thai Education Minister Teerakiat Jareonsettasin, along with a video message from UN Secretary-General António Guterres. Closing remarks were delivered by Danish Ambassador Uffe Wolffhechel.

Sugihara spoke of his grandfather's actions as well as the lives of the people in Lithuania then and now. He emphasized that we must learn from history and work together always for peace.