Activities
Museum highlighted in major dailies (2019.8)

The museum has been featured prominently in articles in several major newspapers over the past two weeks.
Tokyo Shimbun (August 21) introduced our ongoing special exhibition "Beyond Duty," celebrating nine wartime diplomats (including Chiune Sugihara) who have been declared Righteous Among the Nations by Yad Vashem for rescuing Jewish refugees from the Holocaust. After describing the exhibition in some detail, the article goes on to discuss the recent visit by American visitor Chaya Small, who was able to escape Lithuania as a small girl thanks to a visa issued by Sugihara. It notes that the museum, normally closed on Mondays, was opened specially for her, with the Sugihara family there to greet her personally. She is quoted as saying how moved she was to meet the family and how deeply grateful she remains even now for Chiune's humanitarian deeds. She also recalled the happy time she spent in Kobe those many years ago.
Yomiuri Shimbun (August 28), the nation's largest daily, interviewed two great-grandchildren of a Sugihara survivor visiting from Los Angeles. The museum had been surprised when siblings Elisheva and Akiba Zahtz showed up several days earlier looking for their great-grandfather's name on the museum's Wall of Survivors, and Yomiuri wanted to meet them and ask their story. They told of how they learned of their relative's harrowing experience only after he died in 2000 from a recording he left behind. They keep a picture of his visa on their phones. Discovering the museum online, they made it a point to stop by and pay their respects during their trip to Japan and were delighted to meet the family of the man responsible, as they say, for their very existence. They offered to share the recording with the museum, a particularly valuable item for us as few such materials exist from direct survivors. The siblings probably never imagined that they would become media stars in Tokyo. The photo shows them holding a copy of the visa alongside the Sugihara family.
Articles about the museum could also be found in Gifu Shimbun (August 14) and Mainichi Shimbun (August 22) We have enjoyed a spike in visitors since the opening of the special exhibition and the related media exposure. We are grateful to all of these outlets for their coverage.
| | | | |
| --- | --- | --- | --- |
| Gifu Shimbun (August 14) | Tokyo Shimbun (August 21) | Mainichi Shimbun (August 22) | Yomiuri Shimbun (August 28) |
| | | | |
Opening of special exhibition "Beyond Duty: Diplomats Recognized as Righteous Among the Nations"(2019.7.31)

The Chiune Sugihara Sempo Museum held an opening ceremony on July 31 for its special exhibition "Beyond Duty: Diplomats Recognized as Righteous Among the Nations". The exhibition, held jointly with the Israeli Embassy, honors nine wartime diplomats whose courageous actions rescued thousands of refugees from annihilation in the Holocaust. It has traveled to 20 nations in 70 languages. Tokyo will be its last stop in Japan.
Israeli Ambassador Yaffa Ben-Ari, herself the daughter of a Holocaust survivor, gave a moving speech, including special words for Sugihara. "Chiune Sugihara ignored the risk to himself and his family to help Jewish refugees who had fled Poland," she noted. "He had no reason to reach out to these people, who were total strangers to him. But he ultimately decided to follow not the orders of his government but the dictates of his heart, saving a great many lives."
The ceremony was covered by NHK, Bloomberg and other domestic and foreign media.
We express our great appreciation to the Israeli Embassy for allowing us to co-host this important event. We also wish to extend special thanks to Ambassador Martin Tomčo of the Czech Republic for attending the ceremony as well as representatives of the German Embassy, Swedish Embassy and Polish Cultural Institute in Tokyo.
"Beyond Duty" will run through September 1 (closed Mondays and Tuesdays). Details can be found at http://en.sempomuseum.com/
We look forward to seeing you.
Special Exhibition: "Beyond Duty: Diplomats Recognized as Righteous Among the Nations"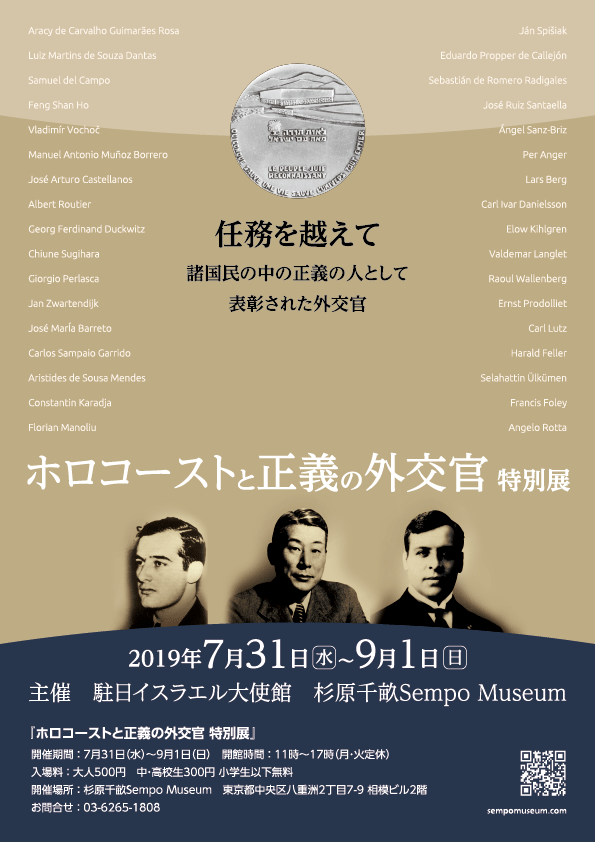 The Chiune Sugihara Sempo Museum and the Israeli Embassy in Tokyo are pleased to announce a special joint exhibition entitled "Beyond Duty," honoring the 34 diplomats from around the world who have been designated as Righteous Among the Nations by the Yad Vashem Holocaust Remembrance Center for their heroism in rescuing Jews during World War II. The exhibition, which has traveled to 70 nations in twenty languages, celebrates the courageous deeds of these diplomats with a focus on nine select individuals, including Sugihara, who risked their lives and careers to save those in need amidst the unspeakable horrors of the Holocaust.
The museum will supplement this with a special selection of previously unreleased items related to Chiune Sugihara in addition to the permanent collection.
We look forward to seeing you for this important exhibition.
"Beyond Duty: Diplomats Recognized as Righteous Among the Nations"
July 31 (Wed) – September 1 (Sun)
11:00am – 5:00pm (closed on Mondays and Tuesdays)
(The afternoon of July 31 is by invitation only.)
Chiune Sugihara Sempo Museum
2F Sagami Building, 2-7-9 Yaesu, Chuo-ku, Tokyo
TEL 03-6265-1808
Sponsors; Israeli Embassy in Tokyo, Chiune Sugihara Sempo Museum
Sugihara House Director Simonas visits Japan
Simonas Dovidavičius, director of the Sugihara House in Kaunas, Lithuania, recently paid us a visit. He had toured various Chiune-related sites in Tsuruga, Gifu and Nagoya, as well as paying his respects at Chiune's gravesite in Kamakura, which he had long wished to see.
We accompanied Simonas to the cemetery. Other families happened to be at the gravesite as well, making this something of a memorial day.
Simonas later came to our museum in Tokyo, where he spent a considerable amount of time looking at the exhibits. He took particular interest in the personal photos taken in Lithuania. We were grateful for his keen observations and insights. We thank him again for stopping by and look forward to meeting him again.
Many thanks as well to Hisayuki Sakamizu, head of the Japan-Lithuania Friendship Association, and Lithuanian exchange student Arvydas Kumpis.
Visit by Kanto Zuiryo Society and Zuiryo HS Principal Shimada
The museum recently welcomed former pupils of Aichi Prefectural Zuiryo High School, Chiune's alma mater, and current Zuiryo High School Principal Machiyo Shimada. The members of the group viewed the exhibits and video with great interest.
We thank Principal Shimada and the entire group for taking the time to come from Nagoya to visit our museum.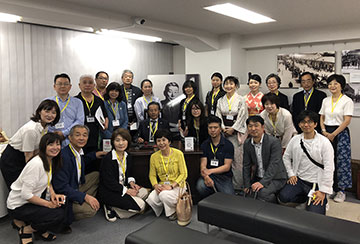 Holocaust Memorial Day (29 January 2019)
United Nations in Thailand
Speech by Chihiro Sugihara
Chihiro Sugihara, chairman of NPO Chiune Sugihara Visas for Life gave a speech before the United Nations in Thailand on 29 January in commemoration of UN International Holocaust Remembrance Day.

Speeches were also presented by the Israeli Ambassador Meir Shlomo, German Ambassador Georg Schmidt and Thai Education Minister Teerakiat Jareonsettasin, along with a video message from UN Secretary-General António Guterres. Closing remarks were delivered by Danish Ambassador Uffe Wolffhechel.

Sugihara spoke of his grandfather's actions as well as the lives of the people in Lithuania then and now. He emphasized that we must learn from history and work together always for peace.